Loma Linda University Health prepares for commencement season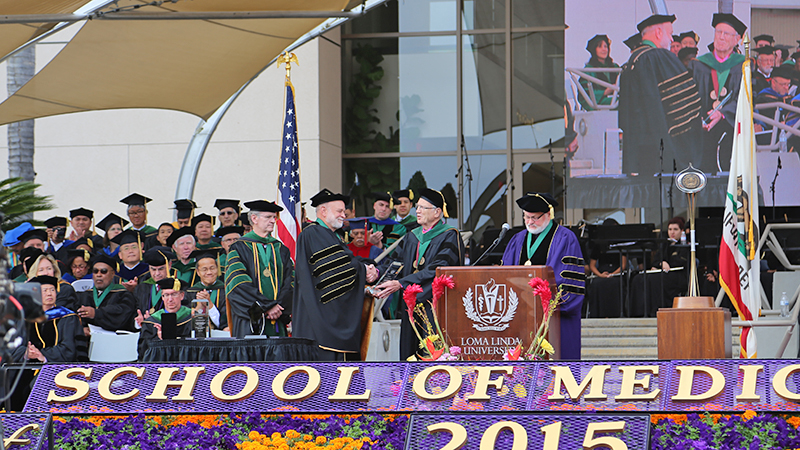 Anticipation is raising the pulse of Loma Linda University Health's class of 2016, as well as the faculty, staff, family members, and friends who will cheer them from the sidelines.
Approximately 1,500 graduates from programs across the spectrum of health care will march in eight commencement programs during the weekends of May 28-29 and June 10-12. Degrees granted will range from certificates to post-doctoral studies.
May 28–29 weekend events
On Saturday, May 28, the baccalaureate service for the School of Dentistry and School of Pharmacy will begin at 9 a.m. at Loma Linda University (LLU) Church, on the corner of University Avenue and Campus Street. At 11:45 a.m., the School of Medicine will hold its baccalaureate.
In keeping with the spiritual emphasis of Loma Linda University Health in "continuing the teaching and healing ministry of Jesus Christ," the baccalaureate service provides an opportunity for graduates to reflect on their experience on campus, as well as renew their spiritual focus in the next stages of their careers. Faculty and graduates march in full regalia, and baccalaureate speakers focus on spiritual themes.
Sunday, May 29, will feature three outdoor commencement ceremonies on the lawn between Prince Hall, LLU Church, Coleman Pavilion, and the Good Samaritan sculpture.
The School of Medicine will lead off the commencement season at 8:30 a.m., followed by the School of Pharmacy at 1:30 p.m., and School of Dentistry at 5 p.m.
June 10-12 weekend events
The second commencement weekend, June 10-12, will begin with a special celebratory vesper program honoring the graduates on Friday, June 10, at 7 p.m. in Loma Linda University Church sanctuary.
Baccalaureate services will follow the next day, Saturday, June 11, beginning at 9 a.m. in LLU Church and focusing on graduates of the School of Allied Health Professions and School of Public Health. At 11:45 a.m., graduates of the School of Nursing, School of Religion, and School of Behavioral Health will follow their faculty down the aisle of LLU Church in full regalia.
Sunday, June 12, will feature five commencement ceremonies, all held at LLU Drayson Center, located on Stewart Street just east of the Centennial Complex. Two back-to-back School of Allied Health Professions commencements will begin at 8 a.m. and 10:30 a.m. respectively. The first will celebrate graduates from the majority of programs, while the second will feature the physical therapy, occupational therapy, orthotics and prosthetics, and communication sciences disorders programs.
School of Public Health commencement follows at 1 p.m., then the School of Behavioral Health and School of Religion combined commencement at 3:30 p.m., and the School of Nursing service bringing to a close the commencement season at 6 p.m.
Commencement speakers
Seven commencement speakers will address the graduates and their guests—three on Sunday, May 29, and the remaining four on June 12.
Gillian Seton, MD, will speak to School of Medicine graduates. While attending Walla Walla University in Walla Walla, Washington, Seton spent a year with the Adventist Colleges Abroad program, attending Newbold College near London. Also during her undergraduate education, she served as a student missionary for a year in Belize. When accepted into the LLU School of Medicine, she chose the take part in the deferred mission appointee program and graduated in 2008. Following a residency in surgery at the University of Utah in Salt Lake City, Seton continued her plans to serve as a missionary physician in a low-resource country.
In February 2014, Seton arrived at Cooper Adventist Hospital in Monrovia, Liberia. A short time later, the Ebola outbreak struck Liberia and several neighboring countries. Seton insisted on staying in Liberia despite personal risk, keeping Cooper Adventist Hospital open to care for non-Ebola emergencies in Monrovia.
Gerald Winslow, PhD, MA, will address graduates of the School of Pharmacy. Winslow is director of the LLU Institute for Health Policy and Leadership, as well as associate scholar at the Center for Christian Bioethics, part of the LLU School of Religion; professor in the department of ethical studies in the School of Religion and School of Public Health; and a member of the LLU Faculty of Graduate Studies.
Winslow has been teaching and writing about Christian ethics for more than 40 years, focusing primarily on biomedical ethics. The past 25 years, he has served at Loma Linda University Heath, including several years as vice president for mission and culture. As an author, Winslow has written two books—"Triage and Justice" and "Facing Limits"—as well as more than 100 published scholarly articles in journals such as the Hastings Center Report, the Journal of Medicine and Philosophy, and General Dentistry. His current work focuses on the intersection of ethics and health policy.
Carol Gomez Summerhays, DDS, will share her thoughts with LLU School of Dentistry graduates. Summerhays, the 152nd president of the American Dental Association (ADA), continues to run a private practice. Prior to her appointment to the ADA, she served as president of the California Dental Association (CDA). Her career includes four years in the U.S. Navy Dental Corps, where she was a lieutenant for four years, as well as a private practice in San Diego.
In addition to ADA president, Summerhays has held positions as a board member of The Dentists Insurance Company, the CDA Foundation, and the Pankey Institute, as well as the Academy of General Dentistry.
Dilys Brooks, MDiv, MA, MS, associate chaplain of Loma Linda University, will address graduates of the LLU School of Allied Health Professions during its two commencement services on Sunday, June 12.
Born in Jamaica, Brooks immigrated to the U.S. with her family. Following her graduation in 2005 from the Seventh-day Adventist Theological Seminary at Andrews University in Berrien Springs, Michigan, Brooks joined the LLU chaplain's office as associate chaplain. A commissioned minister, she has traveled throughout the United States, Canada, Africa, and Australia preaching the good news of salvation in Jesus, as well as teaching and singing. Delroy Brooks, her husband, pastors the Juniper Avenue Adventist Church in Fontana, California.
Timothy Gillespie, DMin, MDiv, has been asked to address graduates of the LLU School of Public Health. Gillespie currently leads the pastoral staff at the Crosswalk Church in Redlands, California. He is also campus chaplain at Azusa Pacific University, as well as assistant professor in the LLU School of Public Health. In addition, he serves on the faculty at Azusa Pacific School of Nursing and La Sierra University School of Divinity.
Gillespie served as chaplain at Loma Linda Academy, just up Anderson Street from LLU, and as young adult pastor at LLU Church. Partly because of his interest in geographic information systems (GIS), Gillespie took a lead role in faith-community engagement at Loma Linda University Health before taking on his current roles.
Colin Bruce, PhD, MA, will share his insights with graduates of the LLU School of Behavioral Health and School of Religion. Bruce is senior advisor to the president of the World Bank Group, established in 1945 to assist countries in reconstruction and recovery following World War II.
Bruce represents the World Bank Group on a global committee composed of heads of United Nations agencies tasked with addressing humanitarian world crises. He focuses on collaborative efforts that result in durable solutions.
Robyn Nelson, PhD, MS, will address graduates of the LLU School of Nursing. A lifelong educator, Nelson has provided nursing leadership in collaboration with campus nursing teams at the five campuses in three states for West Coast University—with more than 3,000 clinical nursing students, 100 full-time faculty, and more than 240 adjunct faculty.
Currently, she serves as a member of the sub-change panel and site visitor for the Western Association of Schools and Colleges (WASC) Senior College and University Commission, as well as for the Commission on Collegiate Nursing Education.
Nelson taught National Council licensure examination (NCLEX) review classes for more than 25 years, co-authored Davis's NCLEX-RN Success (third edition), and served as curriculum consultant to six California universities.